It is surprising how much can be said about a player who does not even have a full year of Major League experience under his belt. Jonathan Papelbon's first big league appearance occurred on July 31st, last year as the Boston Red Sox faced the Minnesota Twins.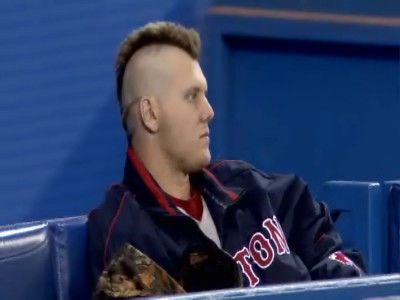 Papelbon currently shares the league lead in saves, sports an earned run in the decimal points, cannot decide upon which music to enter to and once shaved his hair into the Mohawk of Rick "Wild Thing" Vaughn, as portrayed by Charlie Sheen in the feature film, Major League… for a bet. This is not to mention his ability to throw high-nineties heat, an arsenal of various plus pitches and an attitude that screams "CLOSER!" Despite all of that, Papelbon is just not this unhittable, and he is due for a sudden awakening and a complete breakdown sometime this season.
This is not to say that Papelbon is not a quality arm, or that his success so far is a complete fraud. No, Papelbon could end up as a solid closer. He will just not be in the league of a Mariano Rivera, a Trevor Hoffman, or even an Eric Gagne (pre-injury) or Billy Wagner. Papelbon shows all the signs of the rookie effect™ and his place will eventually be in the rotation.
Some may say that this analysis is crazy. How can a pitcher who has started off this amazing not amount to a great closer who will have a great career saving games for the next dozen or so years? Billy Koch and Zach Duke are the answers.
Billy Koch and the Fastball
Papelbon commands a solid fastball that has been clocked in the ninety-five mile per hour range and can consistently hit the lower nineties. He also commands quite a few secondary plus pitches, including a slider, changeup, a slurve curveball and most recently a splitter, which was learned under the guidance of Curt Schilling. A portfolio of pitches this strong means little to the effectiveness of the closer. Ask Rivera who has dominated with just one pitch, a mid-nineties cutter, or Hoffman who has thrived off one of the game's best changeups.
Since closers usually pitch an inning, at most two, there is little need for a wide variety of pitches. The most successful closers mainly rely on two pitches, one of which is usually a dominating pitch that will baffle hitters and is amongst the best in the game. Papelbon does not function in this way. His best pitch is his fastball, which is not overly impressive in velocity or movement. Though all of his secondary pitches are impressive and above average, they are in no way among the best pitches in the game.
Billy Koch is another closer who relied on his fastball and a few secondary pitches to mixed success. Koch commanded a fastball that could reach triple digits and would consistently hit high nineties in its velocity. At his best, Koch was one of the most dominating closers in the game. However, his inconsistency was a result of the lack of movement on his heat and a lack of control.
Papelbon's fastball does not reach the speeds that Koch's could, and though it has more movement, it is far from Rivera's cutter. Eventually hitters catch up to heat with little motion, and the result is often a home run. So far, Papelbon has shown superb control, surrendering only eight free passes in forty-seven innings. However, he had control issues last year, walking seventeen in thirty-four innings, for a rate of one every other inning. If hitters start showing more patience at the plate and require Papelbon to use all of his pitches, the resulting high counts will result in far more walks or more forced fastballs jacked out of the park.
Zach Duke and the Rookie Effect™
Zach Duke is a prime example of the Rookie Effect™. This story may describe the start of any number of careers. Upon entering the league, he is immediately greeted with great success and dominant performance after dominant performance. But then, as the season winds down, or the sophomore season starts up, the pitcher is no longer so dominant. In fact, he is quite hittable.
Zach Duke and Félix "King Félix" Hernández are two prime examples from just this past year. Both were midseason call-ups that completely dominated their respective leagues with earned run averages under 3.00. In their sophomore seasons, they have fallen down to earth hard, while averaging close to five earned runs per nine innings pitched and placing around one and a half men on base per inning.
The reason for this development is quite simple. When the pitchers are first brought up to face major league competition, they are a blank book to opposing hitters. There are few reliable scouting reports and hitters have no knowledge of the pitchers timing or delivery. This is a huge advantage to the pitcher.
However, as scouts work tirelessly to compile expert reports on each pitch and every tendency and as hitters are able to get better feel for the pitcher's timing, the pendulum swings to the favor of the hitter who now holds the advantage in the duel. These pitchers are still young and do not yet have the experience to make the proper adjustments required, having previously just gotten by on their "stuff."
Papelbon, having worked primarily in relief, has an even greater Rookie Effect™, since his outing are even more limited, rather than the whole batting order seeing him three or more times per game. As the season wears down and teams get their second and third chance to see his stuff, eventually the league will catch up. In his own division, both the Toronto Blue Jays and the New York Yankees have patient, powerful lineups that are prime candidates to eventually solve the mystery that is Papelbon. I expect one, if not both of those teams to feast on his pitching later in the season, especially as his arm wears down as younger arms tend to.
Move to the Rotation
With the retirement of David Wells, and eventually Curt Schilling, as well as the increasing ineffectiveness of Matt Clement, there will be a need for Papelbon to bring his arsenal of pitches into the Red Sox starting rotation. If this were to happen, he could be a top of the rotation pitcher for years to come. He has plenty of pitches to fall back upon, and his guts and guile have already shown their worth in his work as closer.
However, if the Red Sox leave Papelbon as the closer, his career would be very similar to that of Jason Isringhausen, though doubtfully as inconsistent as the previously mentioned Koch. He will be a solid, if not spectacular closer. Running up save totals, but never exactly all that dependable. He will surely not continue on his current pace for much longer.
The Red Sox favor a sabermetric approach to baseball that will lead the team to value the 200 and some odd innings from Papelbon, the starter, far more valuably than 70 some odd innings from Papelbon, the closer. In addition, Papelbon has the pitching makeup to have a far more effective career in the rotation than the pen, regardless of his dominance up to this point.
Jonathan Papelbon, Boston Closer, but for how long?