Recently many of the top sports websites have dedicated a section of their website to coverage of the NFL Combine where many of the prospects for the coming NFL Draft will workout in Indianapolis for scouts, coaches and general managers. While ESPN.com featured an article by columnist Pat Forde on the errors of overlooking the player behind workout, SI.com decided to take the other route and feature quarterback rankings by former scout Bucky Brooks that throws the football ability of prospects out the window in favor of their measurables.
The history of the NFL Draft is littered with "workout wonders," prospects who excel at the combine and wow everyone with their measurables, while lacking a history of corresponding performance in their actual play. The most famous workout wonder was Mike Mamula, drafted by the Philadelphia Eagles during the 1995 NFL Draft with the seventh overall pick. Mamula lasted six season and accumulated only 209 tackles and 31.5 sacks over 77 careers games. Mamula is not the first workout wonder and he was certainly not the last.
JaMarcus Russell, LSU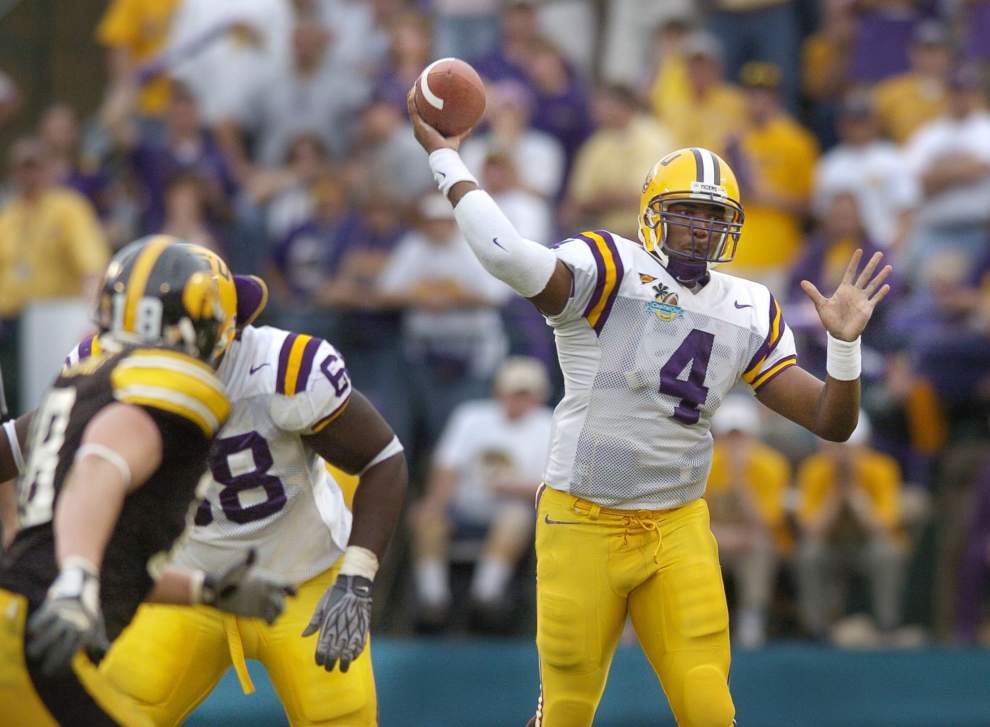 This is where SI.com writer Bucky Brooks' analysis comes in. Brooks ranks LSU quarterback JaMarcus Russell at the top and writes,
Russell has all of the physical tools teams crave. His arm strength is off the charts, and his improved accuracy has impressed scouts. Not quite a finished product, this drop-back passer will thrive in a vertical offense that plays to his strengths. He is the only true "franchise" in the 2007 Draft and should be taken with the first overall pick.

Comparable NFL player: Daunte Culpepper
This analysis ignores the evolution of the game over the past decade or so. Physical tools are not everything in football and this is most apparent at the quarterback position, where a strong arm and big body get you Drew Bledsoe, Vinny Testeverde, or David Carr. Certainly not bad quarterbacks, but also ultimately not worth a high first round draft pick.
The modern NFL quarterback needs more than just a strong arm. The current game does not allow a quarterback the luxury of just sitting back in the pocket and taking all day to pick apart a defense and throw bombs down field. A modern star quarterback needs something extra to truly succeed. They need either a touch of athleticism like Brett Favre, Ben Rothelisberger or Donovan McNabb to evade the pass rush pressure or they need a solid offensive line and the instincts to know exactly when they should release the pass like Peyton Manning, Tom Brady or Drew Brees.
Russell has been wowing scouts and fans alike with his ability to bomb passes eighty yards down field. His arm strength alone can launch a pass into the end zone from the fifty yard line when he is on his knees. However these tricks are not new. It was only a few years ago when Kyle Boller was leveraging this very same ability to move up the draft into the first round. His arm strength hasn't exactly lit the world on fire for the Baltimore Ravens.
Quarterbacks like Jeff Garcia, Chad Pennington and even Rich Gannon back in his day are clear proof that arm strength should be one of the last attributes that scouts look at. A quarterback has never really failed due to lack of arm strength, but plenty have washed out thanks to lack of instincts, intangibles and work ethic.
Most football pundits and writers have already deeded JaMarcus Russell to the Oakland Raiders with the first overall pick thanks to Al Davis' love of the vertical passing game. The question now is whether Russell will have that extra something to translate his size and arm strength into leading an offense with a horrible line, below average running game and two star receivers who completely quit on the team last year. This is a horrible situation for any quarterback, but it is questionable whether Russell could really succeed on any other team, in any other system either.
Brady Quinn, Notre Dame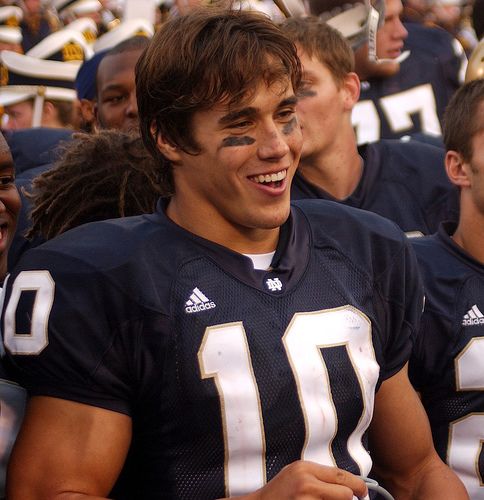 Brooks next ranks Brady Quinn and states,
A very productive college QB with all of the tools to be a solid starter. A polished technician with good arm strength, accuracy and touch, he will be knocked for his inability to lead his team to wins in big games. He may not be the franchise QB that some expect him to be, but he can be a solid starter on an offense full of playmakers. He is a borderline first-round prospect who will be taken much higher due to need.

Comparable NFL player: Joey Harrington
NFL Draft Countdown's Scott Wright ranks Quinn as the top quarterback as well as the top overall prospect. While his status as top overall prospect is questionable with such talents as Calvin Johnson, Adrian Peterson and Joe Thomas to compete with, Quinn gives a strong case as the top overall signal caller and potential franchise player.
Quinn has a strong advantage over the other quarterback prospects and that advantage is Charlie Weis. Tutelage from a coach who was instrumental in turning Tom Brady into the championship leader cannot be properly measured. Quinn has prospered in a pro system the past two years and should be able to play to somewhat reasonable level right away. His experience makes Quinn a safer pick since teams know that he can handle a complicated pro system, while a quarterback such as Russell is surrounded by more questions over his ability to transition to the pro game.
Brooks and many other scouts and writers have questioned Quinn's ability to win the big game, as evidenced by his defeats at the hands of strong teams like USC, LSU, Ohio State and Michigan these past two years. Even though Quinn was unable to come up with a win in these games it is important to realizes the differences between college and pro ball. In the pros, teams are far closer in talent level and ability, while in the college games, the top teams are far far better than lower teams.
Quinn's loses were all to clearly superior teams. Notre Dame never had a real chance. Their defense was so horrible that each of these teams was guaranteed to score at least 35 points, if not much more. This puts enormous pressure on Quinn since he was forced to match those points against teams that did not feature Notre Dame's wretched defense. If anything this will just go to show teams that Brady Quinn alone is not enough to turn their franchise around, because really no player is. They will still have to complement him with talent on both sides of the ball.
Quinn may not be able to perform miracles, but he'll make a fine professional and could find himself in a Pro Bowl or two.
Troy Smith, The Ohio State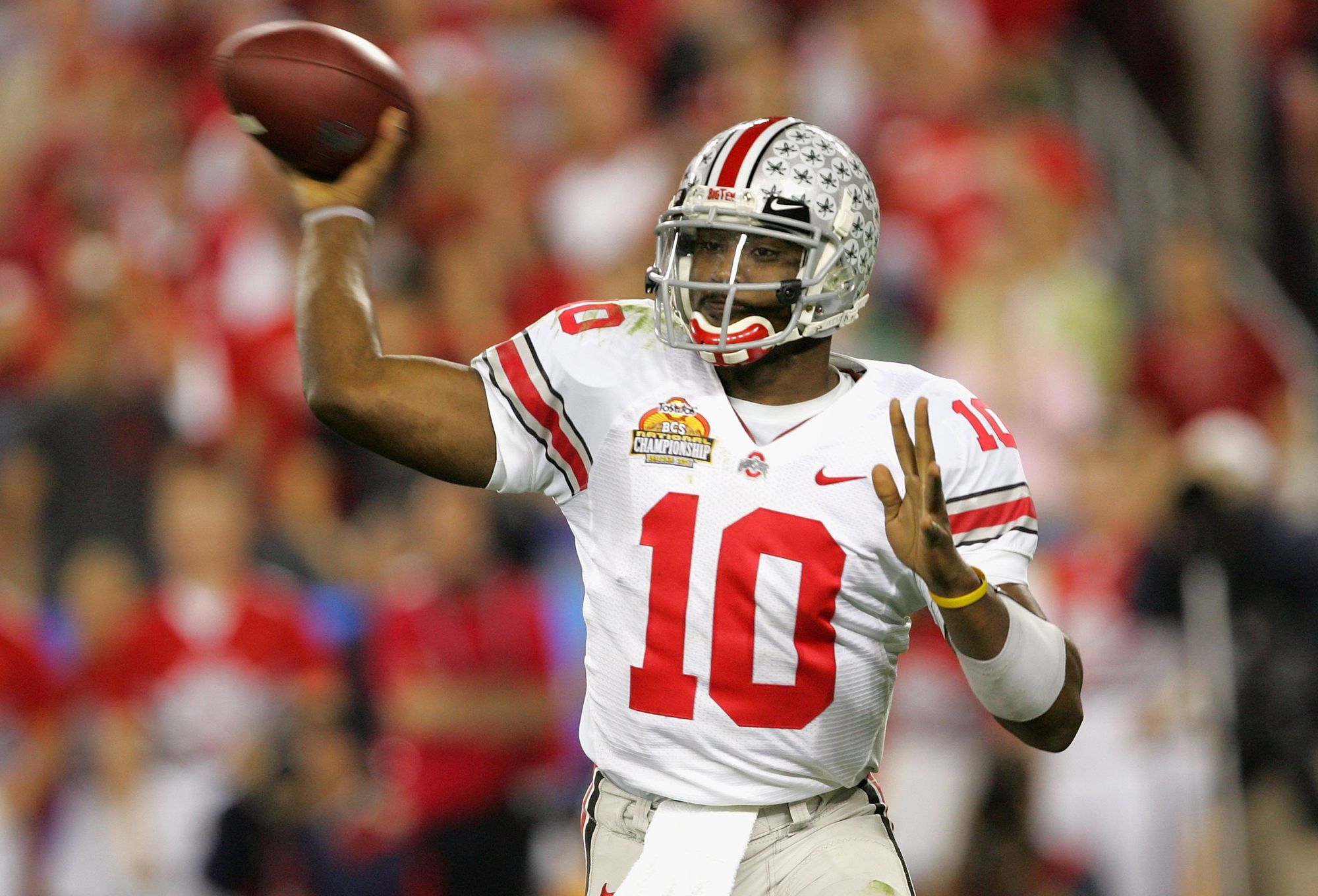 At position five, Brooks ranks Heisman winner Troy Smith and opines,
A slightly undersized, athletic QB with a strong arm and outstanding intangibles. He has developed into an efficient pocket passer, but is at his best when forced to improvise outside the pocket. Though not a perfect fit in every offense, he shows the potential to develop into a starter with time. His leadership, toughness and athleticism will make him successful. He should be plucked off the board in the third round.

Comparable NFL player: David Garrard
Being compared to David Garrard, a marginal NFL starter at best, is not going help Smith rise up the draft. However, watching him play and looking at his abilities another player immediately springs to mind, Jeff Garcia. From his size, to his mobility, to his arm and accuracy, Smith compares very favorably to Jeff Garcia.
However, there is one warning that teams need to keep in mind when using that comparison, Jeff Garcia did not start in the NFL until he was 29, having spent the early part of his career in the CFL. Now there is no need for Smith to follow that career path exactly, but teams must be aware that he will be a project and will need to sit for at least two years if not more. Knowing that, and the impatience of most NFL teams, Smith will probably be considered a bust at first, while he'll probably succeed on his second team a few years later.
If a team is truly willing to be patient enough for Smith they need to have an established starter who Smith can sit behind for a good three years or so. If Troy Smith does last until the third round as Brooks predicts, then the Philadelphia Eagles would appear to be the perfect destination. The Eagles already have Donovan McNabb as a starter and AJ Feely to back him up. They would have no need to rush Smith to start any time soon. The Eagles have already seen that a quarterback like Jeff Garcia can thrive in their West Coast offense, when Jeff Garcia himself did so this past season after McNabb was injured.
McNabb is already on the wrong side of 30 and considering the pounding that his body has taken and his propensity to injury it is doubtful he will follow the career path of a Vinny Testeverde or Brad Johnson and play until he is 40. It is a very real possibility that McNabb will retire in three or four seasons, the exact amount of time that Troy Smith will need to properly develop. McNabb also has that tendency for injury, which will allow Smith a few games here or there to learn on the job without the pressure of having to carry a team for the whole season. There is little downside for this move.
Unfortunately for Smith, the world of football is never this neat and perfect and he'll probably be drafted by a team like the Cleveland Browns and asked to start sometime this season whereby he'll be destroyed because he just isn't ready. If he's lucky, he'll be released in two seasons and able to be picked up by a team who is willing to let him sit and learn for a year or so.
Welcome to the world of the NFL Draft, where franchises are made and most of the quarterbacks drafted never develop into much at all.